Picture file types: JPG vs PNG
JPG and PNG are especially common these days, however, they are not interchangeable.
This article will help you learn everything about the difference and which tools Image Optimizer provides to get the best of these formats.
JPEG – when speed is important
JPEG or JPG is a file format employing lossy image compression technique. It includes the ability to fine-tune the compression algorithm to strike a fine balance between size and quality. Any file format should be compressed to JPEG to achieve a responsive presentation. The only exception to this rule is the images with transparency.
PNG – where transparency matters
PNG uses a lossless image compression algorithm. While this results in imperceptibly higher picture quality, the file size will be significantly larger than JPEG.
It is a go-to format for small-sized pictures like interface elements, which need transparency to be able to blend seamlessly with a dynamic background underneath.
What should you choose?
A good rule of thumb is that when you don't need transparency and it's a visually large object on your website (e.g., a photo of some product), you should convert the file from PNG to JPG. It becomes several times smaller and displays to the visitor faster.
You can also convert JPEG to PNG replacing transparency with solid white color, and still have it displaying properly on a web page, that has a white background.
Here is a comparative example of the original PNG image (left side - 563kb) converted by Image Optimizer with lossless (middle - 67kb) and lossy quality (right side - 58kb). Transparency was replaced with solid white color by Image Optimizer automatically. You can click on each image to see it in full size.
The visual quality isn't compromised in any way, but the file becomes almost 90% smaller in size.
How can Image Optimizer help?
Image Optimizer can automate JPG compression and PNG to JPG conversion of every image uploaded to your web store. During the first-time setup choose the compression quality and tick the "PNG to JPG" conversion option, which is not enabled by default. Keep in mind that Image Optimizer will replace transparency with white background for the images that have it.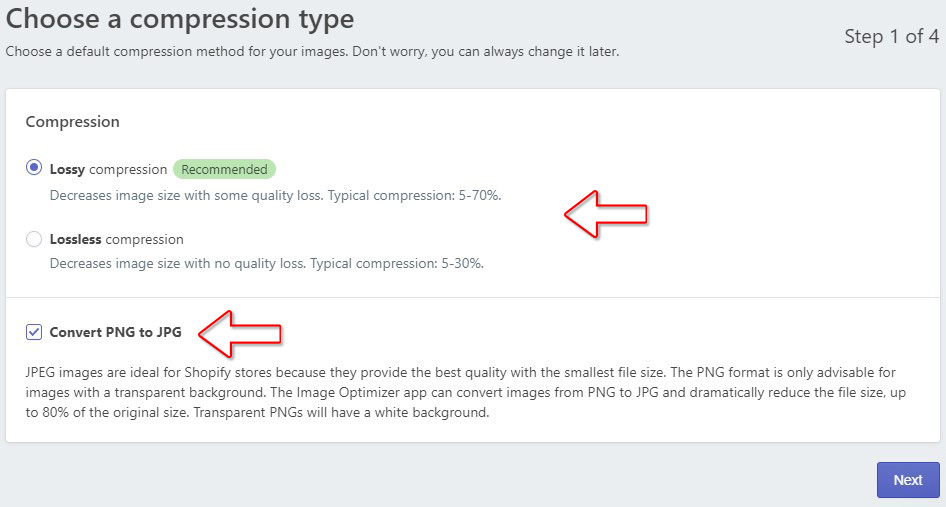 If you already have Image Optimizer installed and want to enable format conversion or change compression type – just click the settings button on the Image Optimizer dashboard and enable these options from the menu: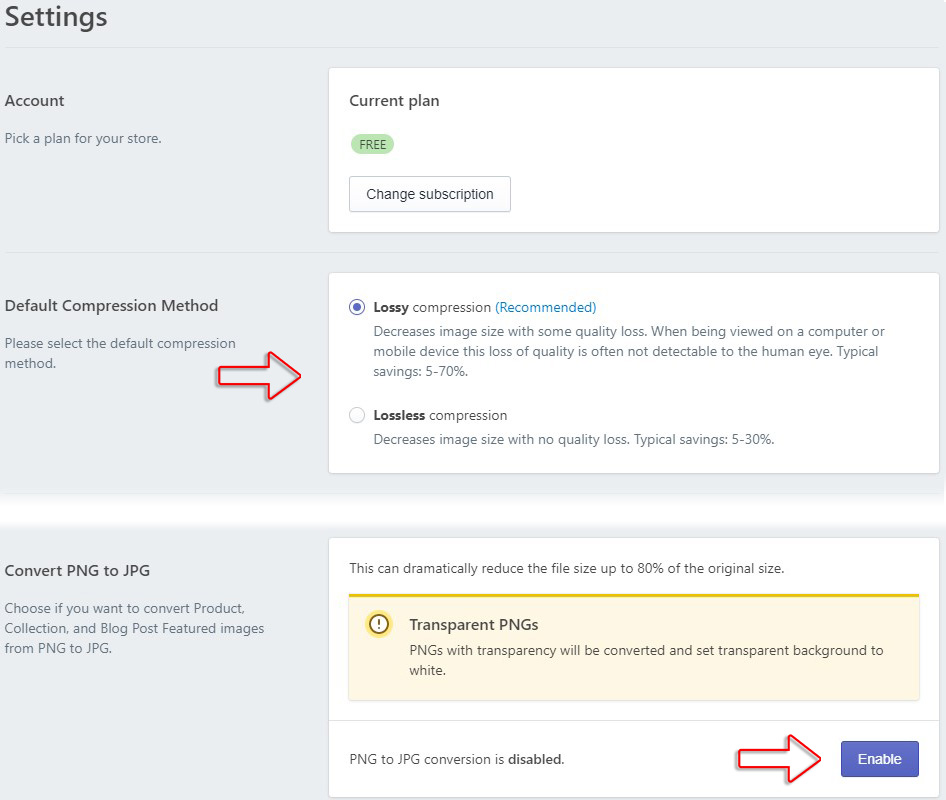 If the automatization goes too far you still can restore optimized images to their original state for 30 days after compression.
Page loading speed is the most important characteristic for any successful web store. You can be quicker than your competitors and present more of your web store in a shorter period of time.
We are glad you have chosen Image Optimizer! If you have any other questions, feel free to send us an email at support@loyaltyharbour.com. We are here to help you the best way we can.