There are two methods of compressing a digital image - lossless and lossy. The former preserves all the image details, but the file size remains almost the same.
The latter removes imperceptible visual information from the image, but the file size reduction can be as much as 70%
.
In this article, you will find out more about these two ways and learn which methods Image Optimizer uses.
Lossless compression
algorithms in a traditional sense do not alter the image contents. They optimize the way the image file data
is stored
, much like a file archiver.
You can always restore the compressed image to its original state,
just
as you can extract a file from a zip archive
.
It's used in digital photography and printing, where an image should remain unaltered for further processing
. Web use of
losslessly
compressed images is rare.
Lossy compression
achieves a much higher compression rate by removing unnecessary visual information.
Lossy algorithms can be fine-tuned to remove the details which are below the human perception level
. When viewed on a computer or a mobile device, the loss of quality is not detectable by the human eye. Yet the file size is drastically reduced.
Here's a comparison between an uncompressed PNG file (left side - 224kb) and its lossy compressed version (right side - 67kb)
. You can click the images to see their full size.
In this case, Image Optimizer was able to reach over 70% file size savings without any visual quality degradation.
We
strongly
recommend that you try out our lossy compression. We use this mode ourselves, as do most of our customers. Y
ou can restore the original files from our backup later if needed or reoptimize your images using lossless compression
.
To switch between the compression algorithms, go to the Image Optimizer dashboard and click the "Settings" button. Here you will find the "compression" section, where you can change the default compression method.

You will also get a pop-up window asking whether you would like to re-optimize previously optimized images using the new algorithm.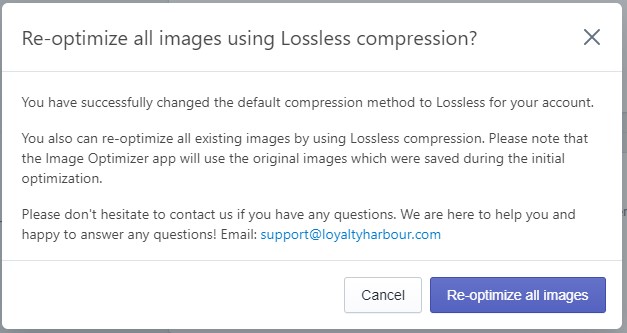 If you choose to do so, Image Optimizer will use the original image files from our back up to avoid quality degradation.